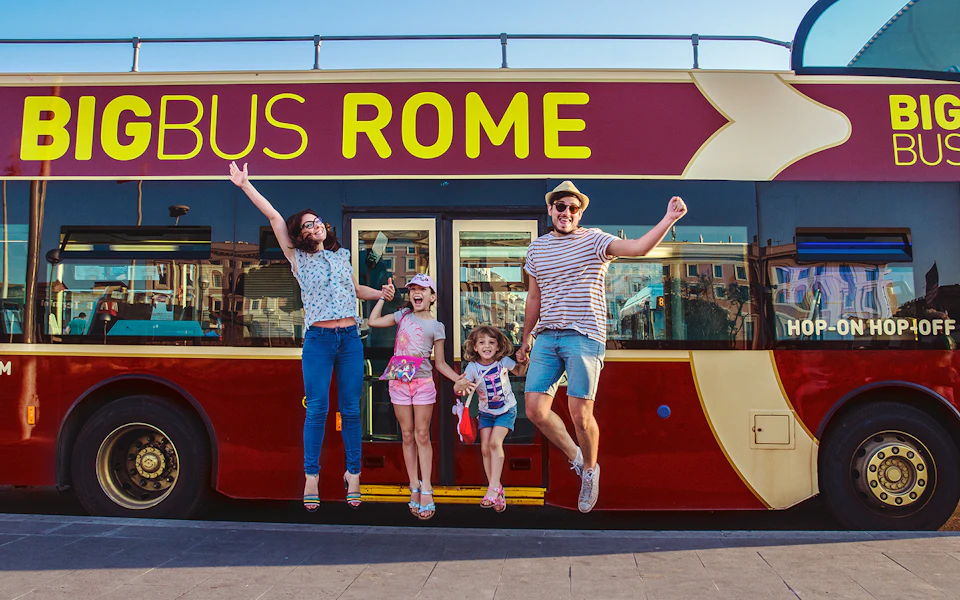 Big Bus Rome Tours
Rome is a beautiful city with countless historical landmarks and attractions that deserves to be explored at a leisurely pace. From the legendary Colosseum and Palatine Hill to epic Renaissance architecture and museums, there's truly a lot to experience in the Eternal City. 
Given that there's so much to see, figuring out the itinerary can be challenging for first-time visitors. This is when Big Bus Rome tour comes into the picture. The tour occurs on comfortable, open-top double decker buses that run on predetermined routes while still giving you the flexibility of choosing your own itinerary.
Why Choose Big Bus?
While going to a new city/country/place is always an exciting endeavour, the actual planning can get a little overwhelming. This is specifically true for a city like Rome that is home to so many experiences and attractions. Planning the itinerary to ensure that all the important landmarks are covered also becomes a challenge, especially since transport options also need to be figured out. 
A Big Bus tour is literal godsend during this time. For the uninitiated, a Big Bus tour is different from regular bus tours because of the handy hop-on hop-off facility. Essentially, the bus will cover all the planned stops in the route but you're free to get off the bus at any attraction of your choosing and spend as much time as you want exploring it. Once you're done, you can head back to the bus stand and hop-on the next bus on the route; no questions asked! 
This convenience is hard to match up since you're in complete control of how much time you spend at each attraction and also have your transport options sorted.
Big Bus Rome Hop On Hop Off - Advantages
1. Overview of the city
Without a doubt one of the biggest advantages of opting for a Big Bus HOHO tour is that you get to see and explore (if you choose) everything there's to a city. The different routes for Big Bus Rome tour are planned in a manner that covers almost all the important landmarks in the city, ensuring that you get a complete trip of the city. This is a great benefit since planning the trip by yourself and figuring out transport options in a new place can be a little tricky.
2. Ease of getting around
Tying in with the previous point, Big Bus HOHO tour successfully tackles one of the biggest pain points for tourists; getting around the city. With this tour, you'll get to travel the city on a double decker bus that stops at the stop nearest to a particular attraction. If you like what you see, you can get off the bus, explore the attraction, and then catch the next Big Bus HOHO bus on the route without spending any money.
3. Various routes to choose from
To make the tour even more flexible, Big Bus offers you different colour-coded routes to choose from. Each route follows a different path and covers different attractions, although there will be overlap for certain major attractions like the Colosseum. Before deciding on which route to opt for, take a look at the detailed plan and see which landmarks and attractions catch your fancy.
4. Informative commentary
A tour where you just sit and admire beautiful buildings as they pass you by is no fun. The Big Bus Rome tour has a multilingual audio guide on board that will keep you well-informed about the various landmarks you cover during the day. To make matters more informative and engaging, free Wi-Fi is available at the bus as well, allowing you to search about any attraction that interests you.
5. Savings
One of the biggest advantages of opting for a Big Bus HOHO tour is the price factor. Normally, if you plan to sightsee in the regular fashion, you would be spending a lot of money just one getting from one spot to the other. Then, there'll be additional expenses like guided tours, etc. The Big Bus Rome tour helps you save majorly on transport charges since you can board any Big Bus bus on your route.
6. Entry ticket discounts
Another great thing about the Big Bus Rome tour is that you get discounted entry to certain attractions on the route. These discounted entry attractions will be mentioned in the brochure or pamphlet so make sure you don't end by paying extra unnecessarily. The tour also comes with free walking tours where you can explore the city's rich history. 
Big Bus Rome Hop On Hop Off - Ticket Options
Classic Ticket
The classic ticket allows you to explore the best of Rome in a day. During the tour, you'll have the opportunity to discover Famous Roman landmarks including the Colosseum, Trevi Fountain, Pantheon, Spanish Steps and more. The experience is elevated even further with pre-recorded commentary available in 9 languages and a free walking tour where you'll walk through some ancient Roman alleyways and learn fascinating facts about the city.
Premium Ticket
The 2-day premium ticket gives you an additional day to explore Rome in all its glory. What makes this different from the classic ticket is the inclusion of the exclusive Catacombs and Caracalla route. This route will take you to the south of the city to one of the most famous roads in the world; the ancient Appian Way. You'll also pass St Callixtus's catacombs and the ruins of the Caracalla Baths. The premium ticket also includes free Wi-Fi, complimentary walking tour, and pre-recorded commentary.
Deluxe Ticket
Spend three days exploring the beautiful Eternal City with this deluxe ticket that gives you three-day access to the HOHO bus. In addition to the Rome Catacombs and Caracalla route access, this ticket also includes a special night tour. The night tour allows you to explore the beauty of Rome after dark. Do note that the night tour is a panoramic tour and not a hop-on hop-off one and begins at 7:30 PM and lasts for about one hour. The deluxe ticket also includes free Wi-Fi, free walking tour of Rome, and pre-recorded commentary.
Panoromic Night Tour
If you wish to discover beautiful Rome after dark, the panoramic night tour is perfect for you. The one hour tour begins at the Termini stop at 7:30 and covers iconic Roman landmarks including the Trevi Fountain, the Vatican, Piazza Venezia, the Spanish Steps and of course the Colosseum. During the tour, you can enjoy a pre-recorded commentary available in 9 languages. This is not a hop-on hop-off tour so you can't exit the bus at any point of the tour.
Big Bus Rome Hop On Hop Off Routes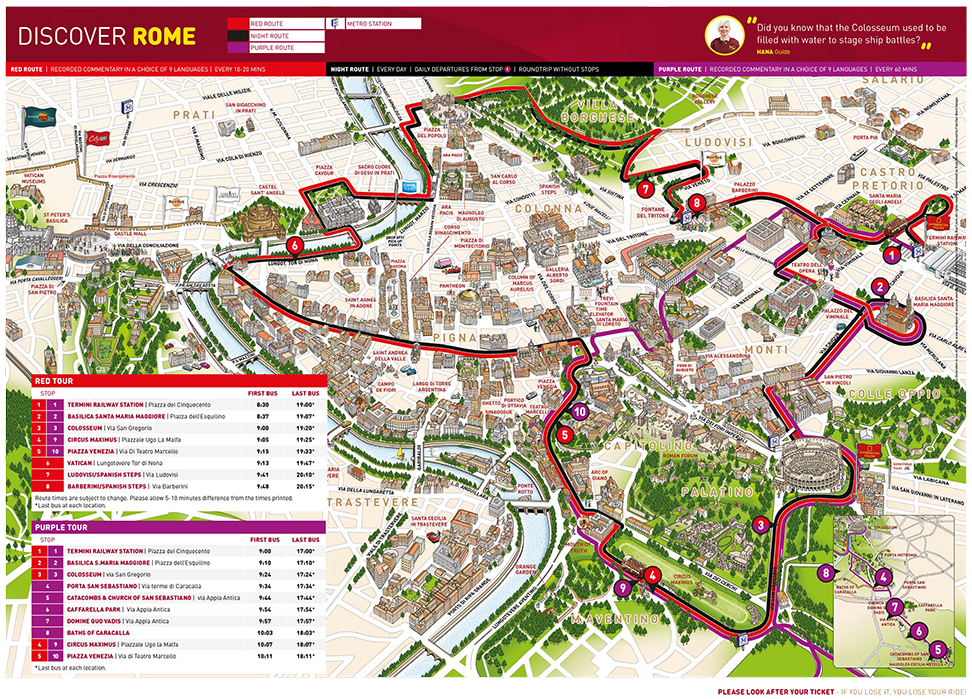 Red Route
Night Tour
Catacombs and Caracalla Circuit - Purple Route
The red route has 8 stops and lasts for about 1 hour and 40 minutes. The buses in the route are available at a frequency of 10-20 minutes. The tour begins at the Termini Station at 8:30 AM and the last tour begins at 7:10 PM. Here are all the stops in the red route of Big Bus Rome:
Termini Station - Basilica Santa Maria Maggiore - Colosseum - Circo Massimo - Piazza Venezia - Vatican City & Castel Sant'Angelo - Ludovisi/Spanish Steps - Piazza Barberini
Big Bus Rome Hop On Hop Off - Suggested Itineraries
Depending on how many days you're in Rome for, you can do a lot with the Big Bus tours. Given the flexibility involved, you can always take a break from sightseeing and go for an extended brunch or visit a place not on the route. Essentially, by opting for a Big Bus Rome tour, your trip is already planned and you just have to do the exploring. Here are three different itineraries for threw different trip durations.
In Rome for just one day and confused about how to spend the day in the most optimal manner? We have a solution. Opt for the Red Route of the Big Bus Rome tour and you're sorted for the day. The route covers all the landmarks you should see in Rome including the Colosseum, Piazza Venezia, Basilica Santa Maria Maggiore, Vatican City, Circo Massimo and more. Do a little research before you leave so that you're aware of which landmark you want to hop-off and explore.
There are quite a few HOHO options to choose from and even with one tour operator there are multiple routes available. This can make the process of figuring out which tour to go for pretty difficult. To make the most out of your time in Rome and have a generally great time you need to do ample research. Before zeroing in on any particular tour or route, understand what's involved. Check the route map carefully to see if the places you wish to see are part of the route. In terms of benefits, most tour operators offer many freebies to attract tourists. Go for a tour that offers you freebies that are actually useful and not just cosmetic.
Big Bus Rome Hop On Hop Off Tips
Know before the tour begins which attractions you want to explore further. The bus will stop at every designated stop but if you're not aware of what the attraction entails, you wouldn't know whether to explore it or not. Avoid this confusion and be a little prepared beforehand.
The buses across different routes arrive at different frequencies. To avoid wasting time waiting for the next bus, be aware of the frequency and go to the stop only when you know a bus is scheduled to arrive.
While the Big Bus Rome tour stops as close to the attractions as possible, there's still a fair bit of walking involved. Remember to wear comfortable walking shoes and bring a hat or sunglasses along if you're visiting during the summer season.
The Big Bus Rome tour happens on an open deck bus and it can get pretty windy especially during the evening. Bring a light jacket along to stay comfortable throughout the journey.
If you're confused between different tour operators, make the route and price your biggest considerations. The operator that stops at landmarks that interest you would be a better choice.
Don't plan anything immediately after your Big Bus Rome tour ends. The bus will drive through some of the busiest parts of Rome and there might be a delay of 10-15 minutes depending on the particular day. Keep a buffer of at least 30 minutes between your tour and the next activity.
Big Bus Rome Hop On Hop Off Reviews
"I just finished my first trip to Rome and the highlight was definitely the Big Bus tour. The bus itself impressed me with its comfortable seating and classy decor. The route followed allowed us to see everything that's great about Rome without having to change multiple buses. Would recommend for anyone visiting the city for the first time."
"I visited Rome with my family last week and it was a relatively stress free vacation. Learning from our past mistakes when traveling with kids, we booked a HOHO tour by Big Bus. This allowed us to see the city without worrying about transport which is a big consideration when you have fussy kids along."
"I hopped off the bus at every stop because I wanted to explore the city to the fullest. The best part was that after I was done, I didn't have to wait too long for the next bus to hop on since the frequency was pretty impressive."