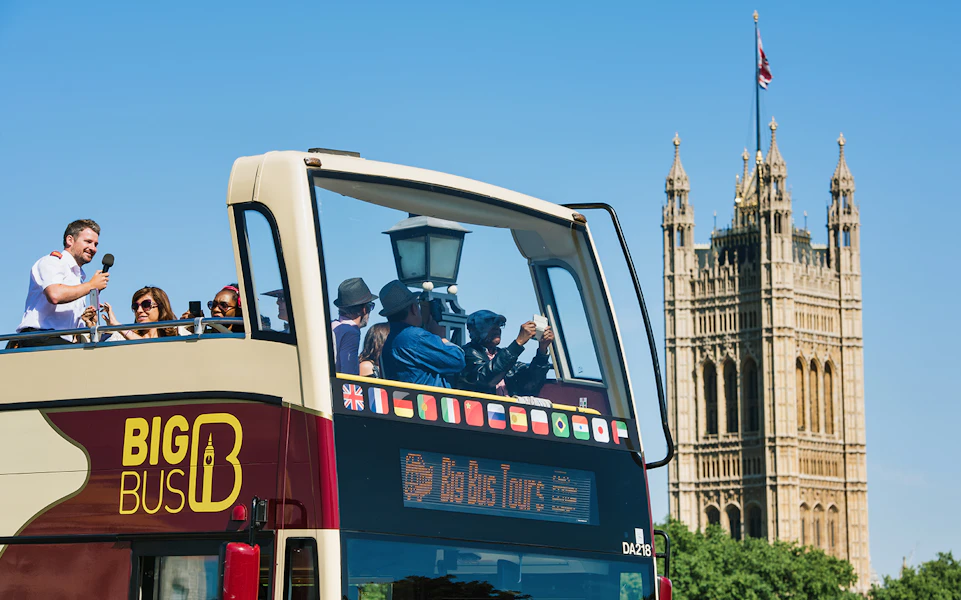 Big Bus London Tours
The ubiquitous open-top double-decker brown and yellow Big Bus is your ticket to convenient and comfortable sightseeing in London. The Big Bus Tour company offers hop-on hop-off tour buses across 40+ bus stops located near the top attractions and landmarks in London. 
The Big Bus HOHO Tours ply on four routes that cover every major landmark in London ranging from Kensington Gardens to Westminster Abbey to the Tower of London. Additionally, you can also enjoy interesting facts as you listen to pre-recorded commentary in multiple languages and live commentary on the Red Route. 
Just purchase your ticket and select from 1, 2 or 3 days passes and enjoy hassle free transportation and benefits like free walking tour and free river cruise! 
Big Bus London Hop On Hop Off
Big Bus is one of the largest Hop-on Hop-off bus tour companies in the world. The company started in 2001 when the Big Bus Company operating in London merged with Les Cars Rouges (Paris). 
Today, the company today runs tours in over 20 cities across 4 continents. Big Bus HOHO Tours have an incredible reputation with customers who have consistently rated it highly for their exceptional customer service, quality of bus fleet, bus routing and the additional perks on offer. 
Across the world over four million tourists use Big Bus tours and all types of travellers including backpackers, family travellers, solo travellers and groups find it convenient and affordable. 
Big Bus London Hop On Hop Off - Advantages
1. Overview of the city
The Big Bus London HOHO routes are designed in a manner that ensures they give you a complete overview of the city. The 4 routes cover Central London, City of London and West London which have the maximum attractions. 
The stops are close to many famous London attractions and even if you do not hop on and hop off, you can take a non-stop trip and still enjoy the sights. This way even if you have a day in the city, a trip on two of the routes will give you the satisfaction of having seen the whole of London!
2. Ease of getting around
London is a huge metropolis and while it has an efficient public transport system, you will have to spend time and money in buying tickets and waiting for the transport to arrive. With Big Bus HOHO tours, you have dedicated buses that run only on specific routes and they cover all the major landmarks which takes away the stress of organizing your own itinerary. 
3. Various routes to choose from
You can choose from 4 different routes depending on your choice of itinerary. The Red Route is the longest and covers the City of London as well as Central London, including attractions like the Tower of London and Westminster Abbey. The Orange Route has many attractions like the London Eye and Buckingham Palace. The Blue Route the best of West London including Kensington Gardens and Hyde Park. The Green Link is the best transport link route which makes sure you are connected to Central London from King's Cross transport hub. 
4. Informative commentary
All the buses have a pre-recorded commentary that touches upon the sights you pass through while on a Big Bus HOHO tour. You will get insight into the history and interesting facts about the attractions and landmarks. 
The commentary is available in 12 languages –English, French, German, Italian, Spanish, Brazilian Portuguese, Polish, Arabic, Hindi, Japanese, Mandarin, Russian. The Red Route takes it up a notch and has live guides who provide engaging commentary and even take questions on the go! 
5. Savings
The Big Bus HOHO tickets help you save money on transportation. 
Take for example, the cost of a single one-way Underground ticket from King's Cross to Tower of London costs £4.90. If you're sightseeing in London, you will need to do these trips multiple times, plus spend time in purchasing tickets and waiting for the transport to arrive. 
Instead a Big Bus HOHO Ticket gives you dedicated air-conditioned buses that ply on tourist routes. Plus, you also get access to a river cruise which costs upwards of £10.75. As such you will be saving on both time and money on your London trip! 
6. Entry ticket discounts
You can enjoy discounts on combos with the Big Bus London HOHO Tours. You can purchase discounted tickets for these attractions – The Tower of London, The London Eye, St. Paul's Cathedral, Madame Tussauds, BODY WORLDS London, Tower Bridge Exhibition, SeaLife Aquarium, ZSL London Zoo, The London Dungeon, and Shrek's Adventure. 
7. Freebies
The Big Bus London HOHO tours offer more than just transportation. You can enjoy a free walking tour and return ticket on a Thames River Cruise. Additionally, the comfortable buses have free WiFi on board which you can use to update your travel journey. You also have complementary headset to listen to the engaging pre-recorded commentary. There is a HOHO Bus Route Map, but even better than that is the access to the Big Bus Tours App which has all the information about landmarks, tours and times. 
Big Bus London Hop On Hop Off - Ticket Options
Classic Ticket
The Classic Ticket of the Big Bus London HOHO tour allows you access to 1 day of access to the 4 routes of the Hop-On Hop-Off bus tours. 
Get around conveniently in London with access to 40 stops that are close to top landmarks 
Enjoy access to a one-way river cruise on the Thames, departing from Westminster Pier to Tower of London or vice versa
Learn about the history of London on a 1.5 hrs Royal Walking Tour, that starts daily at 10:00 AM from Trafalgar Square (Stop 8 – Red Route)
Listen to pre-recorded commentary in 12 languages on the bus
The Red Route has the additional perk of live guides who will give a running commentary as you travel
Premium Ticket
The Premium Ticket of the Big Bus London Hop on Hop off tours offers you access to 2 days of access to the 4 routes of the HOHO Bus tours. 
Plan your itinerary over 2 days across the 40 stops which are ideally situated close to landmarks and attractions
Benefit from a return Thames river cruise where you can hop on and hop off at any of the docks – Westminster Pier, the Tower of London, or Greenwich
Enjoy the 'Royal Walk', 1.5 hours walking tour that starts daily at 10:00 AM from Trafalgar Square (Stop 8 – Red Route)
Get access to pre-recorded commentary on all buses in 12 languages, along with complementary earphones. Plus, the Red Route has live guides who give an exciting running commentary.
Deluxe Ticket
The Deluxe Ticket of the Big Bus HOHO Tours in London offers you 3 days of access to the 4 routes of the Big Bus tours.
Ease of planning a comprehensive London tour with the help of the Big Bus HOHO route map, the buses cover over 40 stops that are close to major attractions
Enjoy a return river cruise on the Thames. Your tour can start at either of the three docks – Westminster Pier, the Tower of London, or Greenwich – and cruises run every 20 minutes in summer and 35-40 in winter
Learn more about London on a 'Royal Walk' walking tour that runs for about 1.5 hours and starts from Trafalgar Square (Stop 8 – Red Route)
Enjoy perks like pre-recorded commentary on all buses in 12 languages and live guides on Red Route
Big Bus London Hop On Hop Off Routes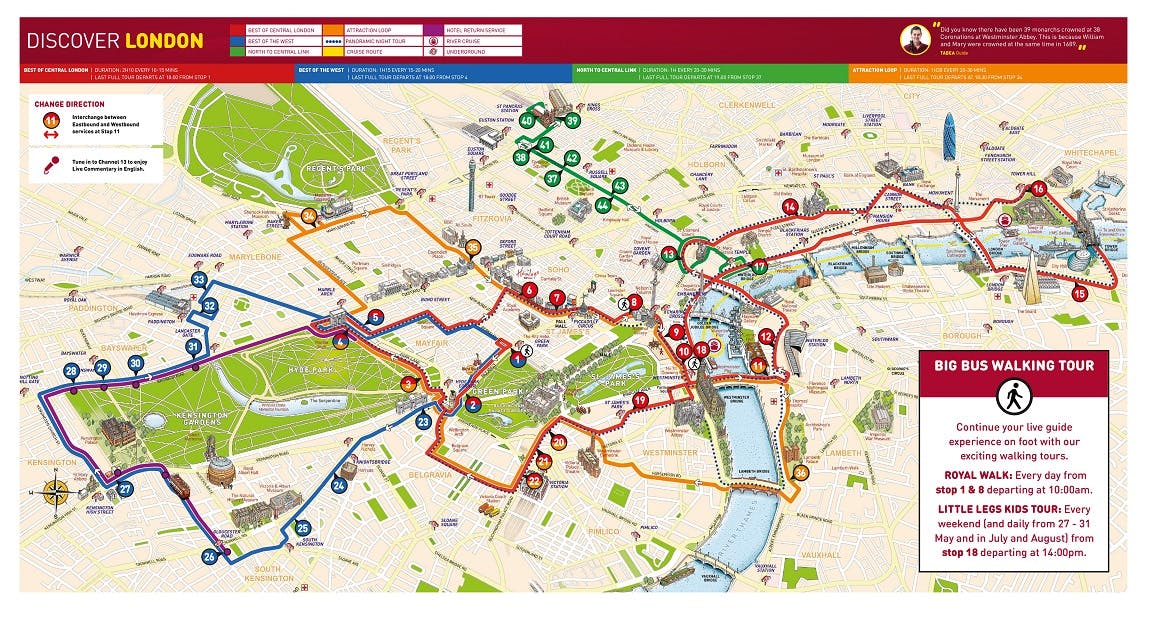 Red Route
Blue Route
Orange Route
Green Link
The Red Route is the most popular of the Big Bus HOHO Bus Tours and covers the areas of Central London and City of London. The route covers majority of the attractions in London and has over 20 stops located near the landmarks. 
The Red Route starts at Green Park Underground and includes landmarks like Westminster Abbey, Houses of Parliament, Big Ben, Buckingham Palace, Trafalgar Square, Piccadilly Circus, Kensington Gardens, Royal Opera House, The Shard, H.M.S.Belfast, and the London Eye. 
The first bus on the Red Route of the Big Bus London HOHO Tours leaves at 8:30 AM and the last bus leaves at 4:30 PM. The entire route takes around 2 hours 20 minutes to finish. 
The Red Route overlaps with other routes at stops 1, 2,3,4,5, 11, 13, 17, 21, 22 and 23 where you can change routes with the same ticket.
Big Bus London Hop On Hop Off - Suggested Itineraries
1 Day Itinerary using HOHO Big Bus London
If you have just one day in London then pick the Red Route of the Big Bus London HOHO Tours and explore all the top attractions in London. Here is a sample itinerary you can use – 
8:35 AM – Take the Blue Route Bus from Green Park Underground Station and plug in your headphones for the pre-recorded commentary. You can complete the loop in approximately 1 hour 15 minutes and take in the sights of West London. 
9:30 AM – Get down at Stop 5 (Mayfair) and change to a Red Route Bus and get down at Stop 8 (Trafalgar Square)
10:00 AM – Join the free walking tour 'Royal Walk' and explore the area around Buckingham Palace. 
11:30 AM – Embark the Big Bus from Trafalgar Square and get down at Stop 16 (Tower of London) to explore the palace. 
2:00 PM – Take the free River Cruise from Tower of London Pier. 
3:00 PM – Explore the Westminster Abbey and the Houses of Parliament.  
5:00 PM – Get on the bus at Stop 19 (Tothill Street) and do the complete Red Route loop crossing at Stop 1 and get down at Covent Garden. Walk around the district and enjoy dinner at one of the restaurants. 
This route will take you through the best of West London and Central London and allow you to explore the major attractions as well as take in a river cruise and walking tour. 
Big Bus London Hop On Hop Off Tips
Download the Big Bus Tours app as it is a convenient way to plan your itinerary and ensure you have the bus timings and route ready at your fingertips. 
Plan your day ahead in advance as the bus routes are in a loop and there are a few points where you can change over to other routes. Make sure you consider the timings of the attractions and the days of closing as you don't want to waste time alighting at the wrong stops! 
As much as possible pre-book your tickets as you can avoid spending time in the queues outside attractions. You can purchase skip the line tickets for London attractions on Headout. 
The Big Bus ticket is valid for calendar days which means it is advisable to activate your pass as early in the day as possible. You cannot use the 1-day Big Bus ticket for 24 hours over 2 days! 
The top deck is comfortable during summer but ensure you pack protective sun gear, like sunscreen and hat, just in case it gets too hot. 
Remember that London follows the right-hand side driving system and if you want the best closeup views of the sights as you are passing by it's best to use the seats on the right-hand side of the bus. 
It is advisable to carry snacks and water in a small backpack while on the Big Bus Tour. This is ideal if you wish to take a route loop and don't wish to get down in between. 
London is great for walking and few of the neighbourhoods are best experienced while walking like Covent Garden, Piccadilly Circus, and Oxford Street. Make sure you visit these areas before or after the Bus tour timings, so that you can make the best of using the bus to get around. 
Big Bus London Hop On Hop Off Reviews
The big bus is good if you want to pack a lot in a short time. I was on a layover in London and bought the ticket and simply sat in the bus and covered all the loops. Took me about 5 hours but now I feel like I have seen quite a bit of London. - Charles Kingsley
We are a family of three, traveling with a 5-year-old son and we took the 3-day ticket. It was a blessing in disguise as we just hopped around the landmarks. We didn't have to drag our son through public transport and worry about getting around the attractions. - Maple Rogers
We spent the maximum time on the Red Route and completely missed out on the Green Route since we had only two days. I personally loved the live commentary on the Red Route, the guide gave us great tips about what to see and where to eat, it was a lot of fun. The walking tour was another amazing benefit, we were lucky to be in time for the changing of guard at the Palace! - David Morris