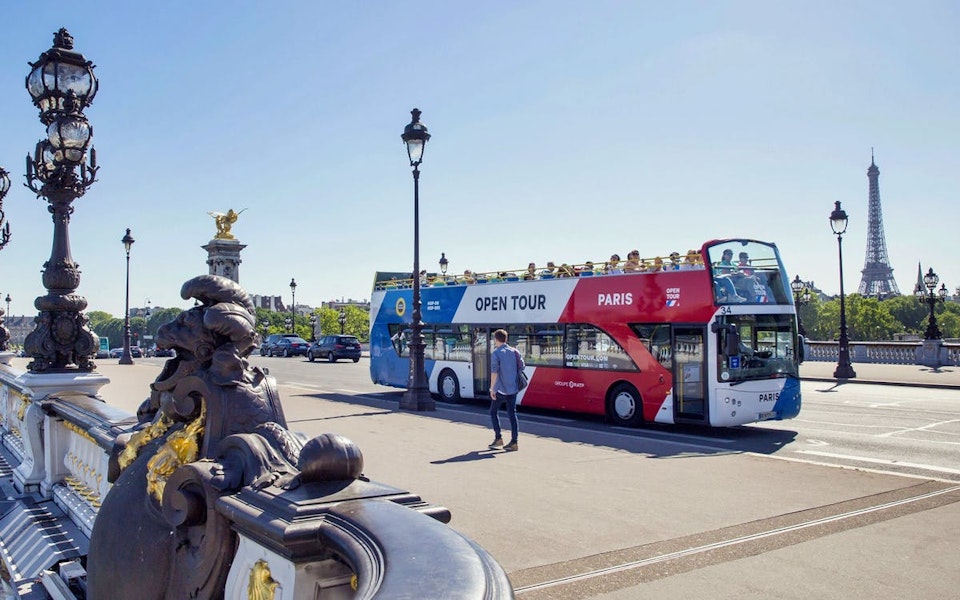 Open Tours Paris
What is the most ideal way to introduce yourself to a new city on the very first day? A guided sightseeing tour with the most informative commentary about the places such as the Eiffel Tower, the Louvre Museum and Champs-Élysées. 
Open Tour Paris Hop On Hop Off journey around the city of love is great for its versatility of picking customized routes to witness the splendor of Paris. You can choose the night bus tours, boat tours or the city tours based on your preference as each is as immersive as the next. The stunning Parisian streets and the river Seine are your canvas as you paint a picture-perfect day with a well-planned tour of a magical city.
Paris Open Tour Hop On Hop Off
Open Tour Paris offers flexible routes and discounted tickets to travelers who wish to enjoy the city of Paris from a comfortable vantage point. They have a one-stop all-access pass that is valid on all three of its lines i.e. Blue, Green and Red. What's more, you never have to worry about missing a bus as there is one every 15-20 minutes. 
Kids and adults alike would appreciate the accessibility and curated programs of the Open Tour bus pass as they have special tales for kids and audio guides in over 12 languages. Since the bus is wired with free WiFi, you can Instagram your perspective of Paris from the top of the double-decker bus. 
Free Walking tours are another benefit of getting the pass making it easier for you to learn more about each Parisian monument of import.
Why choose Paris Open Tours?
1. Get an exceptional overview of Paris
When in Paris, it is a rite of passage to visit each of its landmarks as these places are rich in history and substantial facts about how the city came to be. The HOHO bus tours allow you to become acquainted with the bulk of Paris in a guided and streamlined manner making sure that you don't miss out on anything important. Whether it is the museums, war memorials, the arresting beauty of the Eiffel Tower or even the river Seine passing you by, all of these create a bouquet of memories for the travelers.
2. Ease of getting around Paris
It can be daunting for a newcomer in a land with a distinct culture and some effortless joie de vivre. With a guided tour, you have access to your language of choice and you can easily approach the tour guide for any questions about a place that you are visiting or if you wish to ask for recommendations on where to go next. Cover the city in its entirety as the bus tours have the largest network of interconnected HOHO lines in Paris. It is an efficient way to get a nice feel for the city before you truly get into each nook and crevice.
3. Various routes to choose from
The Open Tour Paris HOHO bus offers three popular routes to choose from namely the Blue Line, Green Line and Red Line. These three cover all the major attractions in Paris combined however, you are free to customize your tour with one, two or all lines. The Blue and Green Lines are the most popular routes with stops such as the Eiffel Tower, Musee d'Orsay, Arc de Triomphe and Jardin du Luxembourg while the Red Line includes Moulin Rouge-Pigalle, Sacre-Coeur and Republique.
3. Informative commentary aboard the bus
The bus tours offer you a guided tour in 12 languages making sure that everyone can find something useful to learn from the experience. The guides are well-informed and they will happily answer to your queries. Learn about the masterpieces hanging on the walls of one of the grandest museums in the world or how the Eiffel Tower came to be a symbol of the greatness of France. Children can enjoy the intriguing tales and legends that are shared by the guides to keep them entertained.
4. Savings on the HOHO bus
You can save enough money with HOHO bus tours to buy an assortment of French desserts and bottles of wine. They have discounted passes and free walking tours along with the bus pass to make your visit to each of the city's landmarks a breeze. If you buy a two- or three-day pass, you can save even more since the packages so offered are geared towards economical travel that is easy on the bank.
5. Entry Ticket Discounts
Open Tour Paris offers special discounts for entry to many of the landmarks in Paris along with the HOHO bus pass. If you are traveling in groups, then it is even better since discounted passes are available for business groups with 10 or more people and events. You can even request for a private double-decker bus for your enchanting visit to Paris. Some places that have discounted offers for HOHO bus pass owners include Grevin Paris, Atelier des Lumieres, Crazy Horse Cabaret Paris and a free mocktail at Hard Rock Café, Paris.
Paris Open Tour Types
1 Day Pass
The 1-Day Pass allows unlimited access to HOHO buses and each of its stops from 9:30am to 7:00pm.
You have access to multilingual commentary onboard the bus and children's tales and legends in 3 languages. 
Access to monuments like the Eiffel Tower, museums like the Louvre and Musee d'Orsay, Concorde and Notre Dame.
There is free WiFi on each bus and access to Where Is My Bus App to find out routes and keep a track of your journey.
Access the entire network of HOHO bus routes and customize your tour of Paris.
Suggested Itineraries
Based on the number of days you wish to accommodate within your HOHO bus tour, here are some of the best routes you can pick from.
Tips
Make full use of the guided tours available aboard the HOHO bus since they are available in 12 languages so you can listen in and learn more about each monument or museum that you visit. 
The bus tours have a special provision for children wherein they can listen to interesting tales and legends about Paris and French history, which is available in 3 languages.
The HOHO bus is a great way to move around Paris in terms of transportation as well. The three routes cover the entirety of the main parts of the city so you can easily find your way around. 
You can hop on and hop off at one of the stops on each of the routes so it is not binding that you remain for the entire tour. 
The walking tours are free courtesy of Discover Walks and they include popular places such as Champs-Elysees, Louvre, Opera and more. They meet at 10:00am and you can disembark the bus at stops 7 or 18. 
Many partners of the Open Tour Paris bus tour offer travelers discounts at various locations and even restaurants such as Hard Rock Café. 
Take your time getting to know the city and join the tour as early as you can to ensure you get the most amount of benefit from your bus pass. 
If you apply for a child pass or a family pass, the bus tours offer discounted tickets for groups as well that you can avail. 
Enjoy views of the city from the top of the double-decker bus where you can ride by the river Seine for scenic views.
Reviews
"Taking the Hop on bus enabled me to get a sense of this beautiful city from the top deck. We wrapped up warm because it was cold but clear skies and a breeze. So much to see and well worth the time. The bus stops are clearly marked which made it much easier. We finished our 2nd day by boat and this was a perfect end - seeing much of what we had already from a different perspective. Highly recommended." – TripAdvisor
"We decided to take the Hop On Hop Off Bus during the morning for a few hours. We had great driver. He was very friendly. He showed us how to find an English channel on the headset. He also answered our questions since we occupied front row seats. We stayed on the bus because we did not want to be late for our other appointment. Plus, it was a cold and windy Fall day. We did not want to walk. We saw all of the tourist sites that we wanted to see in Paris. If we should return in the Spring, we would love to stroll along the Champs Elysee' and to shop in the stores." – TripAdvisor
"Having not been to Paris before we decided to give the tour bus a try and being a coach driver in the uk it's nice to have someone else doing the driving. We didn't have tickets booked but that was no problem as when we started our trip on the red line we were able to pay on the bus. The driver a young gentleman was very professional and was a good driver, nice and smooth, something his colleagues could take note off! The commentary on the red line (use number 12) was very comical and we passed all the main places. The blues line we used after to get to the boat seemed to that ages but still took the sights in. The boat trip was good and we spotted things at a different angle. All in all a good trip but I would advise you buy a 2 day ticket as you can't get around all the routes in one day." – TripAdvisor